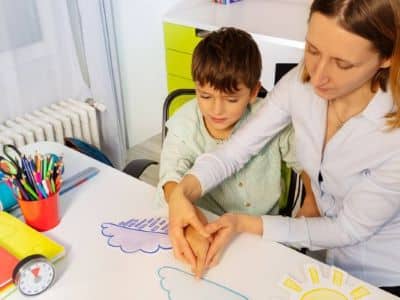 Once you decide that Applied Behavior Analysis or ABA is right for your child with autism, you'll want to find the best ABA therapist to provide that treatment. Finding a therapist who's a Board Certified Behavior Analyst is essential, as the therapist develops and leads your child's care plan, including supervising the work of Board Certified Behavior Technicians. Here are the key qualifications to look for when evaluating your options for ABA therapy.
Education
The required bachelor's and master's degree programs completed by your child's therapist include coursework and field work–usually six years of post-secondary schooling, at a minimum. Common areas of study include child development, psychology and education. 
Experience
You can expect that the therapist has had classroom training and practice, field work experiences, internships and supervised clinical training. This hands-on experience generally includes interviews, assessments and direct interaction with children in need of ABA therapy, as well as documenting childrens' progress and communicating with parents and caregivers.
Professional Certification
Board certification is an important credential, and a minimum education and training are required to qualify for the Board Certified Behavior Analyst exam. To keep their certification, therapists must complete continuing education programs and renew certification every two years.
Find the Best ABA Therapist for Your Child's Needs in Seattle
If you're looking for ways to help your child with autism, Bayside ABA delivers strong ABA services in a comfortable clinical setting for Seattle-area families, including intensive early intervention for young children. Our clients receive the ABA therapy for autism directly from our professional therapists and staff for the greatest possible support for children's growth and development. Contact us today to learn more and see how the best ABA therapist can make a difference in kids' lives.
The Best ABA Therapist for Seattle Parents Who Want Their Child with Autism to Reach the Highest Potential
Serving Bellingham, Alger, Birch Bay, Dewey, Fairhaven, Ferndale, Laurel, Mountain View, Sudden Valley, Seattle, Ballard, Beacon Hill, Columbia City, Eastlake, Fremont, Green Lake, Greenwood, Georgetown, Lake City, Laurelhurst, Leschi, Madrona, Magnolia, Mount Baker, Northgate, Queen Anne, U-District, Wallingford, Wedgewood, Bellevue, Kirkland & Mercer Island
---
Posted on September 28, 2023 | Published by Ignite Local | Related Local Business