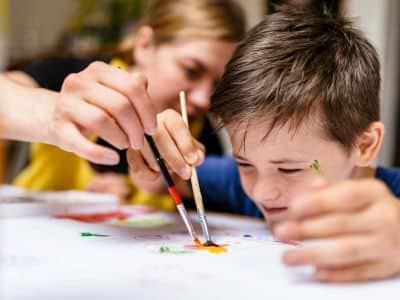 The principles of Applied Behavior Analysis or ABA have a lot of benefits for children with autism, and often help them interact more effectively with the world around them. If aiding your child in achieving greater independence and stronger communication skills is important to you, learn more about ABA-centered autism therapy here.
An Individualized Care Plan
No two children are alike in their needs and abilities. That's why your child's ABA therapist will spend time in the first few sessions assessing where your child excels and struggles. You can also expect to answer questions about your experiences and observations of your child's needs. 
An Adjustment Period
New experiences can be challenging, no matter your age. It's important to realize that some children will have a harder time than others adjusting to a new routine that includes ABA therapy. Fortunately, your child's therapist understands this well and will do everything they can to ease the transition.
Activities to Practice at Home
A key part of effective autism treatment using ABA is practicing newly learned skills at home. By being an active partner in your child's treatment, you'll see positive results faster. Your child's therapist will offer you strategies and tips, and also welcome your feedback about how things are going at home.
Are You Seeking ABA-Centered Autism Therapy for Your Child in Seattle?
If you're looking for ways to help your child with autism, Bayside ABA delivers strong ABA services in a comfortable clinical setting for Seattle-area families, including intensive early intervention for young children. Our clients receive the ABA therapy directly from our professional therapists and staff for the greatest possible support for children's growth and development. Contact us today to learn more about our services and how they can be individualized for your child's needs.
Helping Seattle Children with Autism Succeed Through ABA-Centered Autism Therapy
Serving Bellingham, Alger, Birch Bay, Dewey, Fairhaven, Ferndale, Laurel, Mountain View, Sudden Valley, Seattle, Ballard, Beacon Hill, Columbia City, Eastlake, Fremont, Green Lake, Greenwood, Georgetown, Lake City, Laurelhurst, Leschi, Madrona, Magnolia, Mount Baker, Northgate, Queen Anne, U-District, Wallingford, Wedgewood, Bellevue, Kirkland & Mercer Island
---
Posted on June 27, 2023 | Published by Ignite Local | Related Local Business